Against the Grain - building and repairing US Grain cars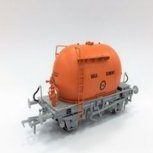 After a prolonged period without a computer I cracked on with a couple of projects to keep me amused. One was the building of some Accurail covered hoppers. I bought a pack of three CNW hoppers in differing colours a few weeks back and nailed a couple together.
What you get
Added detail
So some Kadee replacement trucks were acquired and fitted, weights that had sheered loose glued back in, end detail bent out and roof walkway fixed. I had to remove some of the ladder detail but it doesn't look too bad.I may look into getting a replacement part or get out the plastic strip at a later date. Some weathering will help give it an in service battered look too.
[attachment=:name]