More work on the basket case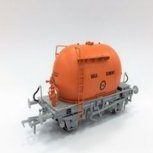 Further work has been done on the GP40X from a previous blog Mainly detail wise.
Next up was adding wipers to the cab. Athearn RTR locos (and some Genesis locos too) don't with wipers. I added some very fine Cannon ones here, which are put beside a hair so you can see how fine they are!
Comparison with an Atlas loco. It's wipers seem very chunky in comparison. Maybe these Cannon ones could be nice fine replacements for 141s and 071s?
[attachment=:name]
That's all for now, more detail and repowering to come!