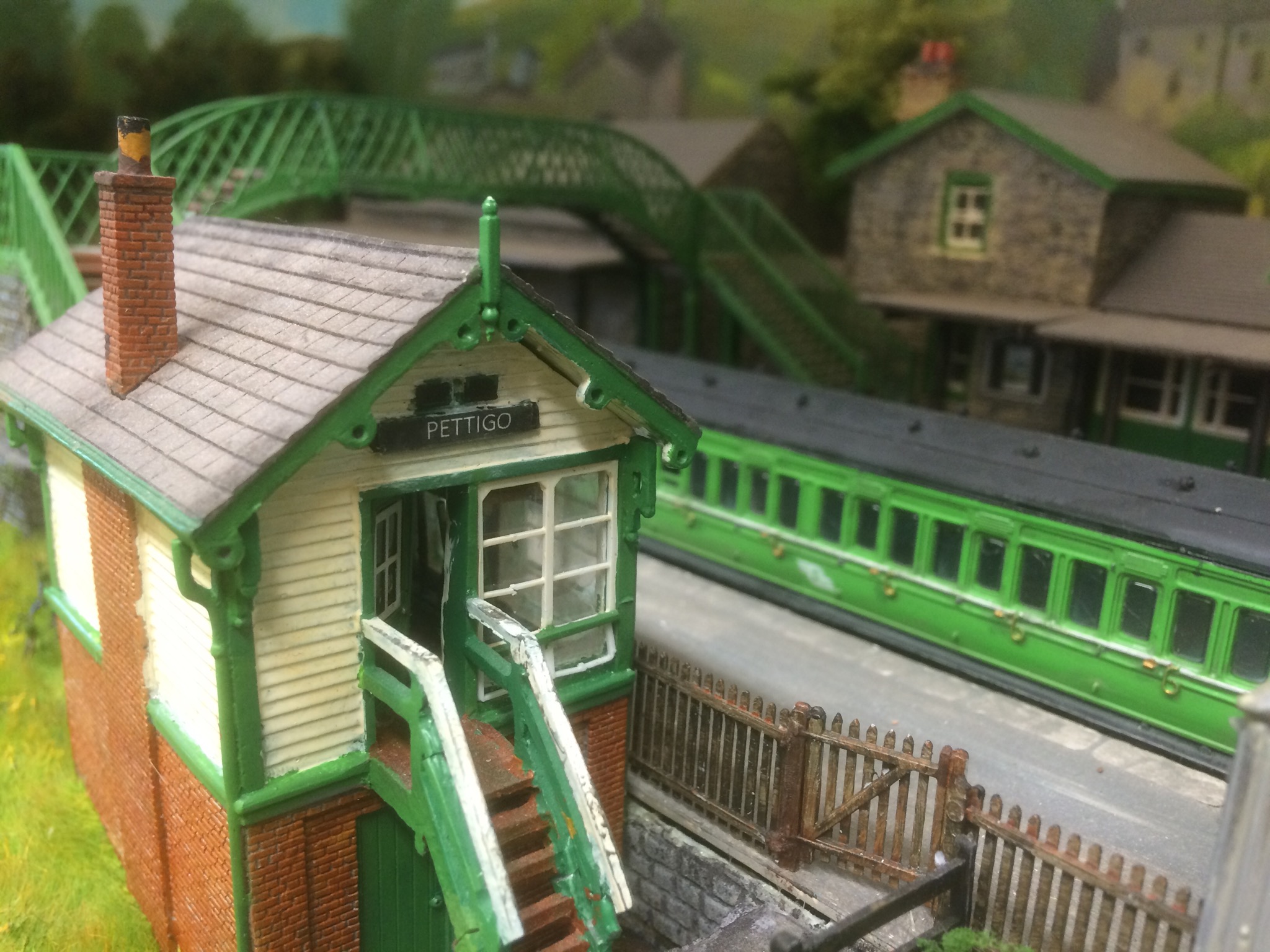 Content Count

101

Joined

Last visited

Days Won

2
Community Reputation
58
Excellent
Recent Profile Visitors
The recent visitors block is disabled and is not being shown to other users.
Merciful hour!! Quality workmanship. I was 'ticked off' on this forum for using BR Commonwealth bogies; I didn't know the CIE ones were different to BR. Westhy/Studio Scale Models has mentioned on at least two occasions that he was planning to do a casting of the CIE version but I reckon it's still on his 'to-do' list. Glover

That's a very nice "Yank", Noel. I have two white metal ones ; can't even remember if they were MIR or Q kits. Those handrails are a distinctive feature of those engines and not easy to get right. Pur her up on the front of your mail train! Cheers, Glover

One odd thing to note on the A class locos is the absence of a windscreen wiper over the non driving front window ( left hand side as you look at the loco). This appears to be more a feature of their earlier years; something else that didn't work on them?! I also remember reading that each loco was given an unofficial pet name; all were female names. That could provide an excuse to justify the purchase :" it's named after you, dear ". Then weather the thing!! Cheers, Glover

Hi Colin, Arrrgh!! I had to go out to the shed to measure it; its 2 degrees here at the moment! But, many thanks for taking an interest in my efforts. Height is almost 28mm. I suspect I used something like 2mm Evergreen strip; I didn't keep a specific note . It was added to the top of the bodyside. Width is only slightly wider than the original Tri-ang/Hornby but I now generally build to 38mm width. Yes it does look more than a bit narrow gauge when viewed end on but certainly on my layout, virtually all views are side on. To my mind, the advantage of building to, more or less, the full Irish width is that it gives you a more correct roof profile. It does require some brutal work with a hacksaw to reduce these coaches to body sides only, which is really the only part of the originals I used. Can I apologise in advance if you have other questions ( and please ask away) but I'll be off-air for the next few days , so I may be somewhat tardy in responding. Meantime, give it a go! Cheers, Glover

On the question of light V dark green, can I quote the following:" ....the following emerged over the next few months in the dark green livery with waistband : A10, 11,15,24,25,34,45,51,54,57,59 &60. So by late 1959, one loco us in light green (A46) , 13 in light green, and the rest in varying stages of the fifty million shades of silvery grey!" Also:" from 1960 the lighter version began to appear on all locomotives on a wide scale". Off course, some might consider the source of this information to be very unreliable ......one JHB 171 Achill!! Yes, you! January 5 2013 on this very forum. Chuckling, Glover

Somebody has to ask the question: will there be space to fit a smoke unit to the original Crossley engined versions.............. Glover (for the avoidance of doubt, tongue in cheek)

This could be the push I need to give up the smokes!! ( but not the stout). I' m modelling Pettigo on the Bundoran branch, as it might have been had it lasted until the summer of 1963. Hence I'm especially interested in the livery variants appropriate to that period. I have a copy of the old Irish Railfans News, August 1969 issue, which contains an article on the various liveries applied, up to that point, to the A class. This prompts a question (and I realise you guys are rather busy at the moment): you list A46 as Lined Green. The article mentioned above says that A46 initially carried the Silver livery and then in May 1958 appeared in Dark Green with a Light Green waistband. Then in late 1960, it was repainted in the Light Green scheme, with no waistband. In essence, the question is: will the green be the dark or light version. Same question applies to A42. I'm not sure I can bring myself to consider a Siver version for a layout set in 1963; there were some still about then ( in fact, A16 was repainted in early 1962 in the original silver livery) ; they were so dirty that even the most skilled 'weather-er' might not be willing to go that far! I have a memory of seeing an 0 gauge model of the A class, in the silver livery, in either Brown Thomas or Switzers. These were not the sort of shops we frequented as a family, so I imagine the shops were running some form of promotion for CIE and hence my mother brought me to the shop. I'm pretty certain that Cyril Fry built it. Very many thanks for bringing these magnificent thought flawed beasts to the model market. Glover

Colin, at the risk of being accused of blowing my own trumpet, you might want to take a look at my workbench thread: Glovers Workbench. It covers a number of coach (and wagon) projects built from what were originally British stock. Cheers, Glover

As Capt Mannering would say, ' I wondered who would be the first to spot that'. You are right. I'm reasonably good on the male:female bit; it's just the rockers, bolsters and upside down bits that confuse me! I'm actually working on Plan B but don't wait up. Many thanks, Glover

Many thanks for your kind offer of assistance Eoin. I think I'm getting there: trial and a lot of errors! I'm scratchbuilding ( in plastic) a GNR J4 brake/compo for my reproduction of the Bundoran Express. When I contacted Worsley Works, Allan advised me that this particular coach wasn't available (so, I bought two other GNR coaches from him; see the most recent entries in Glovers Workbench, in the Workbench section). I'm using the MJT 8' Fox bogie sides, as they appear to be the closest approximation to at least some of the Fox bogies used by the GNR. To those intimidated by brass (and that most certainly includes me!), you might want to look at my workbench. I won't bring down the tone of this thread by talking about my agricultural methods..... Again, many thanks. Glover

Jealous!! All that equipment and, more importantly, the ability to use it. I've built four Worsley Work coaches at this stage; not easy work. I'm currently building a set of the MJT rigid frame bogies. Maybe I'm thick but I'm struggling to get them done. Your photos will be very useful. Cheers, Glover

Back in April of this year, I wrote about my conversion of the old Hornby LMS Stanier coaches into a 1953 build CIE brake/standard. I noted that I wasn't happy with the roof profile. These coache roofs were almost flat across most of their width but then turned sharply downwards on each side; I'm sure there's a proper geometric term for such curves. I had another go, using the same Geoff Kent method but with the benefit of practice, I think it has turned out better. I also renewed the corridor connectors and fixed a de-railing issue . Before and after photos below. Now, back to the hammering and banging on the workbench as I work on my Q4 project. Cheers, Glover I note that the corridor connector is a bit askew in the second ('after') photo; it's fine when it's buffered up to other stock. Glover

I took some photos outdoors as it shows the livery to good effect. The K8 open third was numbered 326 , by the UTA, on the green side (built 1917, withdrawn 1967). Previously it was numbered 357 by the GNR. On the teak side, the UTA number is 320 (GNR number 18). This was withdrawn in October 1963 (built 1915) and therefore it is reasonable to assume that it never received UTA green. I have used the UTA Red Hand logos on the teak side. The L9 ( brake/third) was given the UTA number 466 on the teak side and 464 on the green side. I can now run them as a both teak or both green combination or a mix, which might be more typical. Or I could if I had an appropriate loco........ A long term project.

This is most certainly a first for me. The varnished wood livery was achieved thanks to a piece on RMweb by Mike Trice. Google 'painting LNER model coaches' or something similar. Essentially, apply a white primer and then a base coat of cheap acrylic paint in a colour like orange or yellow. Then a mix of burnt umber (artists oil) and something called Liquin Original, available in art supply shops. Apply this mix with Golden Taklon brushes. Finally, varnish to taste. It's actually as simple as that and I have to say that I am well pleased with the end result.

When the GNR Board was disbanded in 1958, the UTA immediately set about repainting the more modern, flush sided coaches into their green livery. Older wooden bodied coaches were not a priority and thus GNR coaches in their old varnished teak livery could still be seen in UTA service in 1963. There are a number of photos to support this. Therefore.......