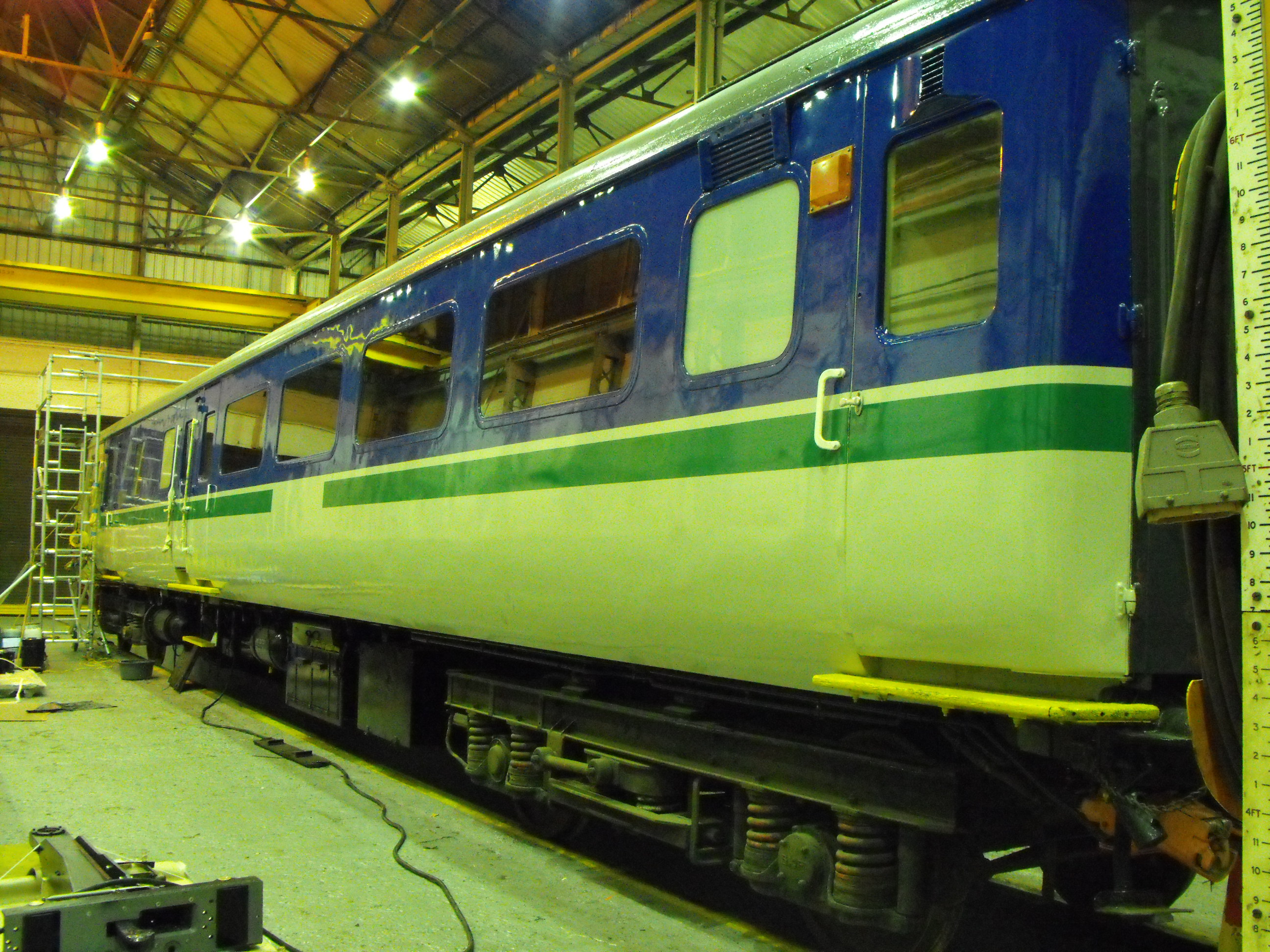 Content Count

333

Joined

Last visited

Days Won

3
Community Reputation
311
Excellent
About Robert Shrives
Rank

Senior Member


Birthday

02/24/1962
Converted
Biography

UK rail employee working in Darkest Birmingham , on the steel rails since 1982- does not make me necessarily any good but just doing it for a long time...
Converted
Interests

Ffestiniog Railway and modelling across many scales and gauges, walks and food survival grade only
Converted
Occupation

Controller for Train operating company - Intercity sector
Recent Profile Visitors
The recent visitors block is disabled and is not being shown to other users.
Yellow panels are a bit of a moving feast as well with yellow getting bigger on 113 and then shrinking a bit. 111 was small yellow until 8111 renumber but its larger panel looks to be smaller that 8113, with it starting higher up the front and 112 still small from pics seen. Also to add fun, and it cannot have been for long some pics of 111 on test with no logo on the side I spotted on internet today. so much fun to be had with just three locos and a "common paint scheme."

Just to say at the time of these locos being painted I worked on the Ffestiniog railway and I painted a large fluorescent/ reflective red exclamation mark on Glanypwll shed roller shutter door as it was thought less likely to be shot at then a bullseye stop roundel. This faded in about 5 years to an orange just as seen in the photo history of these engines. Perhaps a failing of the product in UV light. I have just painted and older Resin 071 in the light blue - I call it french blue, with the older angular NIR and a small MIR yellow 111 style warning transfer. Is this right ? Robert

Just to say I think the new office fan is a bit overrated...

https://www.flickr.com/photos/36034969@N08/33471802856/in/album-72157622814077260/ Hi Pic show a comparison between red and orange stripes. Robert

sorry about that mods ...

Hexgon 789 it is up on the web, hope ok to show but that is how it came up when I put link on this reply. https://www.flickr.com/photos/mjyrailphotos/galleries/with/72157684923669506 might be of use.

Hi just to hinder but in Irish Railway memories - A decade of change 1984-1994 by Paul Heywood ISBN 9781840338195 has a great pic of a brand new 113 on page 43 on a test to Dublin and it has an orange panel - small like 111/112 , August 1984 or mid July 1984. It is also unnamed. I would say it is a darker blue than the french blue 111 was painted in the early days of operation. Happy research Robert

Shapeways print mediums have changed over the years and WSF - white strong flexible that B1Lancer used for the 121 now is unavailable. Smooth detail and smoothest detail while more expensive give a better finish and some N prints I have had from Recreation 21 are much better. This still eclipsed by some home printers using PLA - I have had from Lenny Sweenny via ebay in 3mm have been as good as production plastic models. It was good to read Shapeways have in partnership with a materials supplier overhauled the range of materials available - but it seems the originator has to upload materials choices or you get the cheapest option by default which is a WSF furry lookalike. So hopefully if folk play ball Shapeways will continue to provide a good resource for modellers and many other users. I do agree that sanding SWF is nigh on impossible and that the Normal viewing distance and some imagineering will help (gloss over) the layering. Robert

I have to say I was lucky with the Old Ian Allen book shop who remaindered a pile of MM models a while back including weathered 177. At Redditch show 4 years ago I got a 201 for £100 - blue NIR loco to go with the lima one . Some years before at IA they had the Lima Irish coach packs at silly prices so these sit waiting flush glazing and new wheels on some rainy day in the future.. As noted the value of any item is what a person is prepared to pay, ebay in lockdown has seen a lot of inflationary pressures but this ought to be only temporary . Bachmann a while distanced themselves from the Murphy models works saying it was all MM owned and originated so unless the tooling etc was sold on it is down to the good gent wanting to court a factory for a re-run. Perhaps when the aging process of the 121s have passed and blood pressure normal... Interesting to know 7500 as the production run. This compares favourably with numbers banded about for current OO production runs but small to the US railroad productions by Kayder. Robert

A bit more done on the loco front with rubdown logos - but these have reacted to testors dull coat and Humbrol acrylic gloss - If anybody has any of the smaller 101 NIR logos tucked away and open to reasonable offers I would like to get a second set and the MIR red transfers. Flash on 111 makes it looks a bit garish but ok really . Behind ,as I guess are more across the land, 121 being finished as the rtr model makes final approach and behind 3 A class. 121 is an MIR resin and then two fox A and a white metal Q kits A class- this does need a big motor or a set of jacks as a depot queen.

Well the green barriers numbered and a 20foot CIE weathered also a 47 foot flat for the Sperry just awaits bogies. so orange works in the back ground as well. Three SSM brassgami and Shapeways 47 footer , bogies on the way from SSM.

Interestingly ( to hijack for a moment) Shapeways have announced a partnership with a supplier who is offering the materials used in some private printers that give much better results. I have a collection of 3mm items from a 3mm society member that puts Shapeways in a "cocked hat." Also to add Great work on the 121 and I look forward to the finished work. Robert

I guess we are now spoil (t) for choice. One pack ordered to allow sperry train and weedkiller potential later - just need the coach and tooled up to be the genbrake as well... you know you want to.... Oxford diecast do some good plant so hopefully these will appear on layouts at some time . recent phots had a jumble of older concrete sleepers as a train load as a varation to spent ballast or roadbase stone. Robert

Cheeky buggers with this one ! Just sold left leg to science .... Will look good with my Sperry , have to mug up a tank as well. Robert

Yes I spotted lack of them as well -give it time I guess. Just canvassed the boss at C rail.